Description
Edit
The Amphibian is a relatively small-sized car shaped like a boat. It is one of the only cars (apart from Gunboat, Hovercraft and Sharkmobile) that can float on water and is quite slow. However, in water it is relatively quick. It was added in the first version of Drive Ahead.
Strategies
Edit
Choosing the Amphibian on a map like Swimming Lesson and just camping in the water is quite effective. If you are on a map with a water-type Sudden Death , if you can survive until the Sudden Death you are pretty much guaranteed a win. Just dodge the meteors!
The Amphibian can be unlocked using the casino .
Can float on water.
Fast in water
Sometimes, your enemies strike you before you place yourself in water (Sudden Death).
It has very poor maneuverability on land.
Head is poorly protected in the back.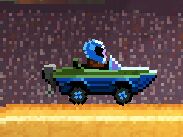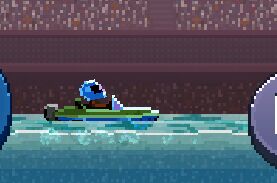 Ad blocker interference detected!
Wikia is a free-to-use site that makes money from advertising. We have a modified experience for viewers using ad blockers

Wikia is not accessible if you've made further modifications. Remove the custom ad blocker rule(s) and the page will load as expected.