The Antique Automobile is a vehicle in Drive Ahead. It can be unlocked in the Slot Machine.
Appearance
Edit
The Antique Automobile is an old but durable vehicle. It has two fairly sized wheels with thin tires. The driver sits in a small compartment holding a steering wheel, and the front of the vehicle has a small bit braching out the front.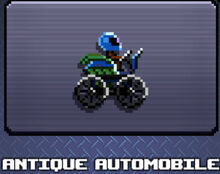 Good Speed
Height of Driver is good against lower vehicles
Well protected from the front
Good Balance
Once it loses a wheel it becomes much more vulnerable
Unable to defend from attacks above it
It is only one of few vehicles where a steering wheel is visible.
It is one of two antique vehicles in the game, the other being the Antique F1.