Description
Edit
"Why so serious..?"
Appearance
Edit
The Clown helmet is based off the creepy clowns that puts on shows in circuses. It has a white painted face, and a displays creepy smile and cross shaped eyes. It also has what looks like a Green or Yellow hat on his head, It also has a red nose like clowns usually have.
The Clown's description is based off of a famous line uttered by Heath Ledger's Joker in the movie The Dark Knight.
If it is on the blue team, the clown's hat is green, and if it is on the red team, the hat is yellow.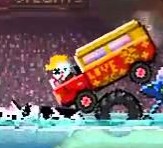 Ad blocker interference detected!
Wikia is a free-to-use site that makes money from advertising. We have a modified experience for viewers using ad blockers

Wikia is not accessible if you've made further modifications. Remove the custom ad blocker rule(s) and the page will load as expected.