The Swimming Lesson is a map in Drive Ahead! It has a weight platform and raising water but no sand, rock or steel ground. This gives the
Amphibian
and other floating vehicles a huge advantage with this arena.
Small Vehicles can easily take advantage of medium or big sized vehicles as their weight can get lifted down on the bar into the water.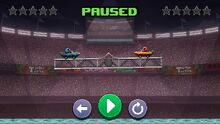 Ad blocker interference detected!
Wikia is a free-to-use site that makes money from advertising. We have a modified experience for viewers using ad blockers

Wikia is not accessible if you've made further modifications. Remove the custom ad blocker rule(s) and the page will load as expected.