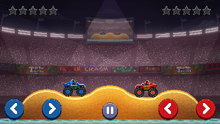 Description
Edit
The Triple Hill is a map that has three hills made of sand with water on either side. The background is stadium, which has a screen that shows previous and current events. This map is an Original map.
Sudden Death
Edit
The Sudden Death in this map is rising flood and raining flaming rocks, and occasionally flaming cows.
Ad blocker interference detected!
Wikia is a free-to-use site that makes money from advertising. We have a modified experience for viewers using ad blockers

Wikia is not accessible if you've made further modifications. Remove the custom ad blocker rule(s) and the page will load as expected.