The
Two Sider
is a legendary vehicle that was added in
Version 1.20
and can be obtained from the
Prize Machine
.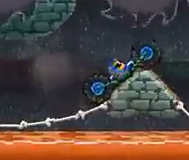 Appearance
Edit
This vehicle has two huge wheels on each side, while the driver sits in the middle. If this vehicle flips over, it
will drive upside down instead of killing the player.
Can still drive if flipped
Fast
Wheels protect the head
If an enemy falls on top you, your helmet will get hit
If the surface the car falls on upside down is uneven, the helmet will get hit
It, the Monster Truck, Steamroller, Monster Bus, Monster Cannon, and the Compensator Bike's front wheel have the biggest wheels in the game
The Two-Sider, Gift Box, Alien Attack Drone, Tentabot, Hexabot, Steel Crab, Tripod, and the Sawbot are the only symmetrical cars in the game.
It can be played as in the Motordome mission Upside Down.
Ad blocker interference detected!
Wikia is a free-to-use site that makes money from advertising. We have a modified experience for viewers using ad blockers

Wikia is not accessible if you've made further modifications. Remove the custom ad blocker rule(s) and the page will load as expected.