Overview
Edit
The Version 1.13 Update, or the Halloween 2015 update was released on October 27, 2015, just days before Halloween. It was the first ever Halloween Update and added many new things.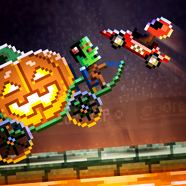 Bone Bridges
Bonedome
Graveyard
Horns
Rorschach
Vampire
Werewolf
Frankenstein
Skeleton Knight
Zombie
Ghost
Witch
Update Description
Edit
Happy Halloween! Iconic faces of horror,
Atmospheric arenas and fun new missions!
Prepare yourself for the new spine-chilling
content!
- 6 VAMPIRIC VEHICLES
- 6 HAUNTED ARENAS
- 7 HORRIFYING HELMETS
- CRAZY HALLOWEEN MISSIONS
Ad blocker interference detected!
Wikia is a free-to-use site that makes money from advertising. We have a modified experience for viewers using ad blockers

Wikia is not accessible if you've made further modifications. Remove the custom ad blocker rule(s) and the page will load as expected.