Overview
Edit
The Version 1.14 Update, which was released on November 8, 2015, introduced multiple new things that changed the gameplay majorly. It also added a couple of other new items.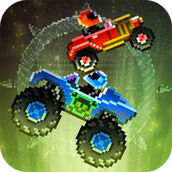 Vehicles
Edit
Storeys
Rift
Shark
Police
New Gameplay
Edit
Update 1.14 added new randomly spawning items such as mines, tires, and ramps. These items can appear on any map in any number and at any place. The most common is the mine, which will blast the player away when detonated by being touched, while the tire is a rolling object that gets in the player's way most of the time, but is also a useful killing tool. The ramp is by far the rarest, but acts as a useful tool to access an opponent's head if used correctly. However, it too can be pushed, but with considerable difficulty.
Update Description
Edit
Drive Ahead! enters a new explosive level of action
with randomly spawning stage objects!
- ARENAS WITH MINES, TYRES AND RAMPS
- 2 NEW ARENAS OF SPINNING TURMOIL
- 2 NEW HELMETS OF BADASSERY
Ad blocker interference detected!
Wikia is a free-to-use site that makes money from advertising. We have a modified experience for viewers using ad blockers

Wikia is not accessible if you've made further modifications. Remove the custom ad blocker rule(s) and the page will load as expected.