Overview
Edit
The Version 1.15 update, or the Christmas 2015 update, was introduced on November 26, 2015. It was the first Christmas update and added many new things.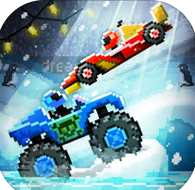 Vehicles
Edit
Spruce Delivery
Snowcat
Kicksled
Snowman
Snowball Cannon
Snowball Bike
Ice Cliffs
Bull Glacier
Cold Cave
Frozen Wave
Snowboarder
Ice Cube
Polar Bear
Inuit
Fur Cap
Gift
Update Description
Edit
Christmas is upon us!
The new Advent Calendar features a new mission every day!
-Advent Calendar! (25 missions)
- 6 Freezing vehicles
- 4 Arctic Arenas
- 9 Cool Helmets
Ad blocker interference detected!
Wikia is a free-to-use site that makes money from advertising. We have a modified experience for viewers using ad blockers

Wikia is not accessible if you've made further modifications. Remove the custom ad blocker rule(s) and the page will load as expected.