Description
Edit
The Watering Hole map has a floating "island" that the player(s) spawn on. Most likely the players will both fall off onto the curved sides, and force the other into the "watering hole", hence the name.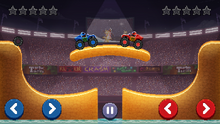 Sudden Death
Edit
The sudden death for this map is water rising up to drown you, and meteors falling from the sky simultaneously.
Strategy
Edit
Use a large car to push other small vehicles off, letting them fall into the water hole, or get killed by sudden death.